St Tropez Pirates Ride Wave of Success at GCL Hamburg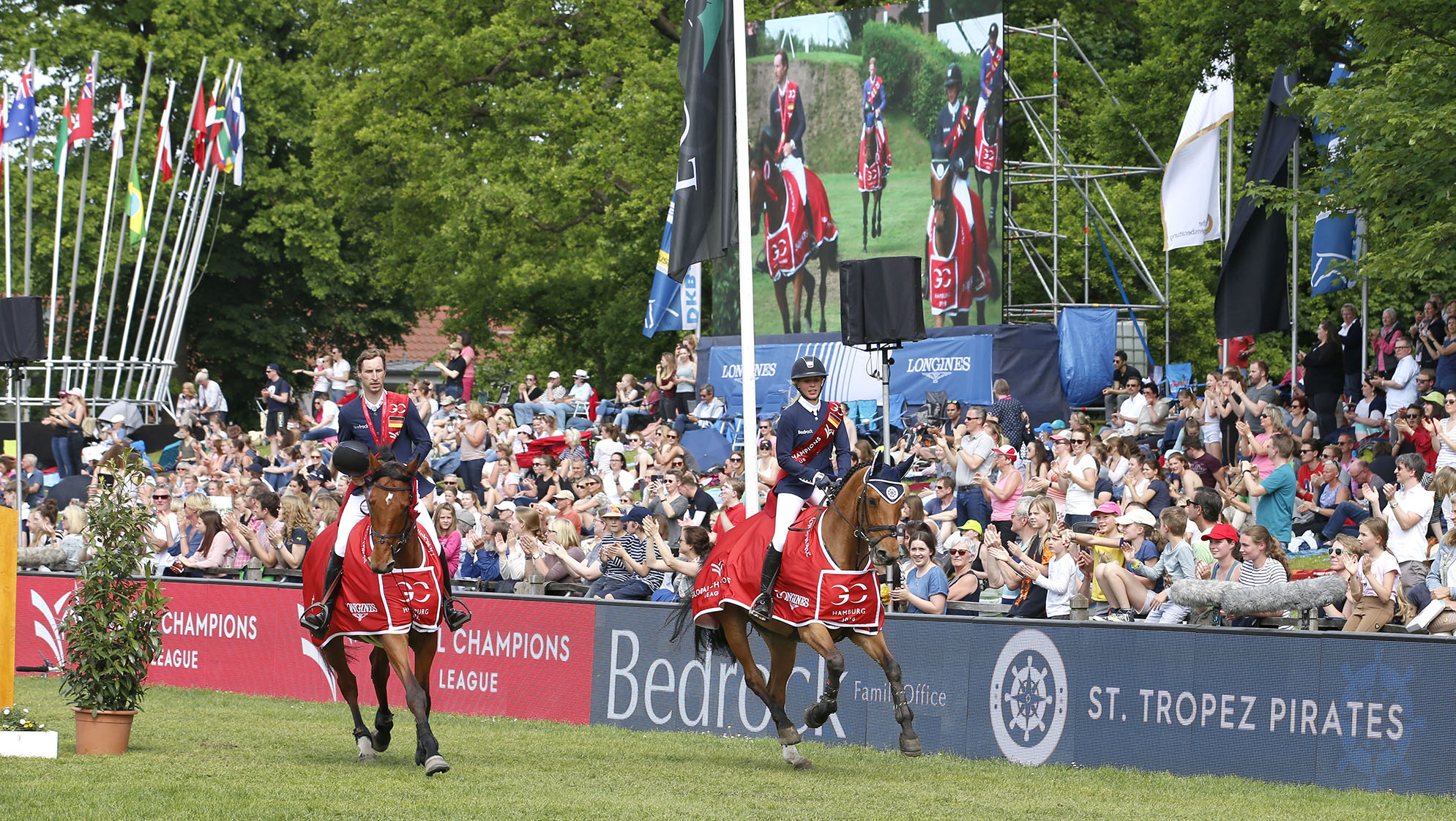 Photo: GCL / Mario Grassia
Excitement flowed to the final fence as the St Tropez Pirates duo of Laura Klaphake and Pieter Devos held off enormous pressure to sail to the team's first win of the season at GCL Hamburg.
U25 German star Klaphake and Devos of the Pirates jumped fluid, fast rounds, with a single back rail of an oxer late on the course falling during Klaphake's round, failing to dent their prowess. They claimed the top step of the podium in Germany, as the top four teams all finished within one fence of each other in a nail-biting showdown, keeping the packed grandstand on the edge of their seats.
By putting just four penalties on the board across their two riders, Jur Vrieling and Marcus Ehning, Valkenswaard United shot up the leaderboard from overnight fourth to finish second. The Shanghai Swans (Pius Schwizer and Shane Sweetnam) held onto their overnight third spot.
Setbacks make the best comebacks, and the current GCL Ranking leaders, the London Knights, finished fifth after posting the only double clear of the day — a staggering rise up from 16th place overnight after a strategic horse and rider change to field Nicola Philippaerts (Chilli Willi) and Martin Fuchs (Chaplin). They remain at the top of the championship, with Valkenswaard United in second and the St Tropez Pirates rising to third after their untouchable performances in Hamburg. But there is still all to play for ahead of the season finale where 16 teams will qualify for the GCL Super Cup at the GC Play Offs in December.
Only 17 horses of the 56 starters jumped clear over Frank Rotheberger's testing course, which contained three doubles and a tricky line to the last where riders had to choose whether to go for five for six strides from the Mercedes 1.70m wide spread to the tricky brown upright at the last. Time was influential too, as riders taking too much time to set up for the short doubles were caught out by the clock.
In Hamburg, it all came down to the wire in the climax of the GCL team contest. It was only a clear round from Belgian rider Pieter Devos of the St Tropez Pirates that could ensure his team stayed atop the leaderboard. Having changed horses from the first round, his partner was the bright chestnut Apart, and the 13-year-old Dutch gelding responded to every question asked of him in fine style.
"That was amazing," beamed the 24-year-old German rider Klaphake, who once again rode the Oldenburg gelding, Catch Me If You Can. "Pieter did an amazing job, he had so much pressure but he just did it. It was quite difficult the course, but I think it was good building because everyone had fences down in different places."
The 32-year-old Belgian rider Devos added: "There were some options and we said from the beginning that Laura should take the option here to the yellow oxer and if she had one down then I would go around [the longer route] because I knew I had to be clear, so I wouldn't take the risk any more. But always when you're in there the pressure is on and its not so easy to take these decisions in that moment."
The Berlin Eagles, who had been second overnight, had a tough day at the office. Ludger Beerbaum recorded an uncharacteristic 12 faults on Chiara and his team-mate Philipp Weishaupt also rolled two poles to see their team tumble down the rankings.
But it would be the Pirates' day, keeping cool under pressure to take their first win of the season.
The GCL Championship race now looks to Ramatuelle, St Tropez, where the Pirates will be hoping to ride their wave of success with another strong result at their home event.
PRESS CONFERENCE
Jan Tops, Co-Founder GCL: "You can't afford to make a mistake. With the new system it is much easier to follow. London Knights are in the lead in the overall GCL ranking. They have a great young team, very good riders and horses and they are very determined all year - tactically planning where to send their riders and horses."
Volker Wulff, LGCT Hamburg Event Director: "We had a really good event and you could see the crowd was in the whole class. It is a good step to do it this way where you don't know until the last rider who is the winner. It is a good innovation for the League."
Pieter Devos, St Tropez Pirates (Winning Team): "That is what this is about, putting the pressure to the end. It was a super competition, it was really important to be clear. Laura did a super round, but had one down so I knew I had to go clear. It makes extra pressure, but makes everything more exciting. That's what is is all about it was super sport today."
Laura Klaphake, St Tropez Pirates (Winning Team): "To be honest I really enjoyed being part of the team. I really tried my best. My horse was amazing. It is a completely different thing to be part of the team, I really enjoyed it and I got some really good tips from Pieter and Edwina."
Maurice Tebbel, Valkenswaard United (Second Place): "It is a really good team and a pleasure for me to be part of this team. Today was a bit unlucky for us, but second place is really good. I think it was really close and really interesting for the people here and for the new system (of the GCL) it is good for the people to understand and I am looking forward to the future. It was super interesting to ride for the first time in a team."
Shane Sweetnam, Shanghai Swans (Third Place): "We were in the hunt until the last rider and if we were clear we would have won today. That is what we are aiming for, it was vey exciting, a great crowd here backing all the riders. It was great. I am lucky I have a good group of horses at the moment so it's great to be that consistent and I am lucky to have these horses.
"I think the new system (GCL) is a lot easier to understand. People are getting more involved, everyone is very positive and a lot of people are following. I got a lot of tweets and WhatsApp messages today saying it was very exciting and that just tells you there is a big following."