Spectacular 3D Graphic Revealed for Inaugural LGCT New York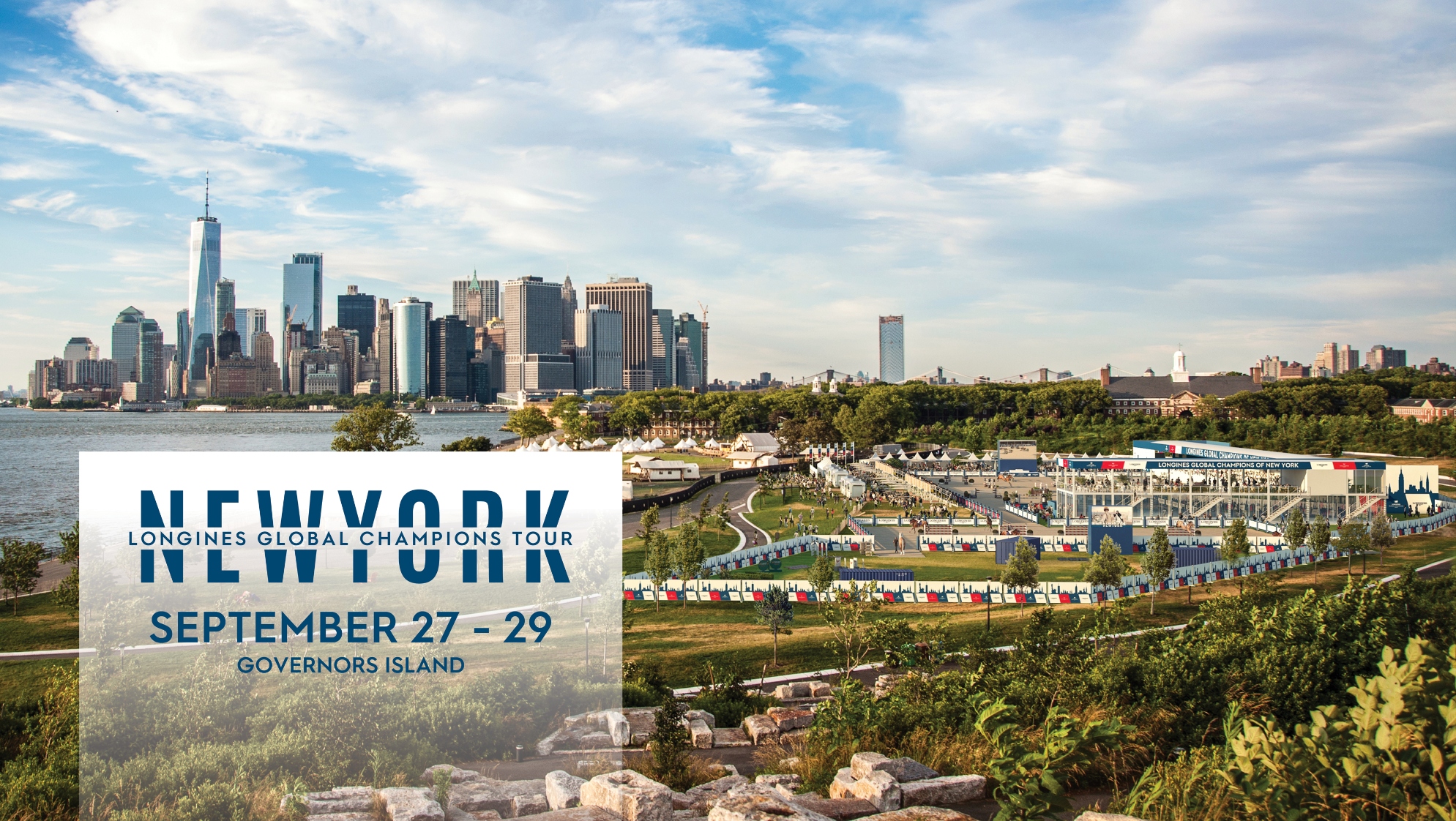 The official 3D graphic for LGCT New York
The spectacular stage for the Longines Global Champions Tour of New York at Governors Island is brought to life in this stunning image showing the views to the iconic Manhattan skyline.
With only five weeks to go before the 2019 Finals of the LGCT and GCL the venue for the debut of New York event on the global circuit is being prepared for the arrival of the world's top horses and riders for the event from 27 - 29 September. It will be an explosive three days of unmissable action.
The show ground, with its top quality sand competition arena, public grandstand, world class Hospitality Lounge and Shopping Village, enjoys unparalleled views to the City skyline and across to the Statue of Liberty.
The LGCT circuit, with 19 events this season, spans continents and the top-level show jumping events take place in unique destinations including on Miami Beach metres from the Atlantic Ocean, in front of the Eiffel Tower, next to Monaco's Yacht Harbour and now on Governors Island. Admission is free for spectators who can catch the regular ferry service from Battery Maritime Building in Lower Manhattan for a short eight-minute ride across New York Harbour to Soissons Landing and the venue on Governors Island.
The Island is visited by an average of 24,000 people at the weekends in September. The event - which is the first time show jumping will be held on the island - will be a family-friendly event, with a shopping village and a large variety of food and refreshments on offer throughout the three-day show.
The 2019 LGCT Championship race has already produced a rollercoaster of sporting drama and excitement for showjumping fans worldwide, with the Finals at LGCT of New York adding to an electric year of top sport.
The GCL battle is exceptionally close and promises to be a thriller with all eyes on the teams' selections for GCL New York, the event also the very last chance to cement the 2019 rankings. With the top four teams fast-tracking to the semi-finals of the GCL Super Cup at the GC Prague Playoffs every point will count in the fight for supremacy this season.
And the LGCT New York event will be the final chance for riders to qualify for a place in the prestigious Longines Global Champions Tour Super Grand Prix, which will be held during the GC Prague Playoffs at the O2 Arena this November.
For more information about LGCT New York, please click here.