Sizzling Schwizer takes another LGCT Speed Class win!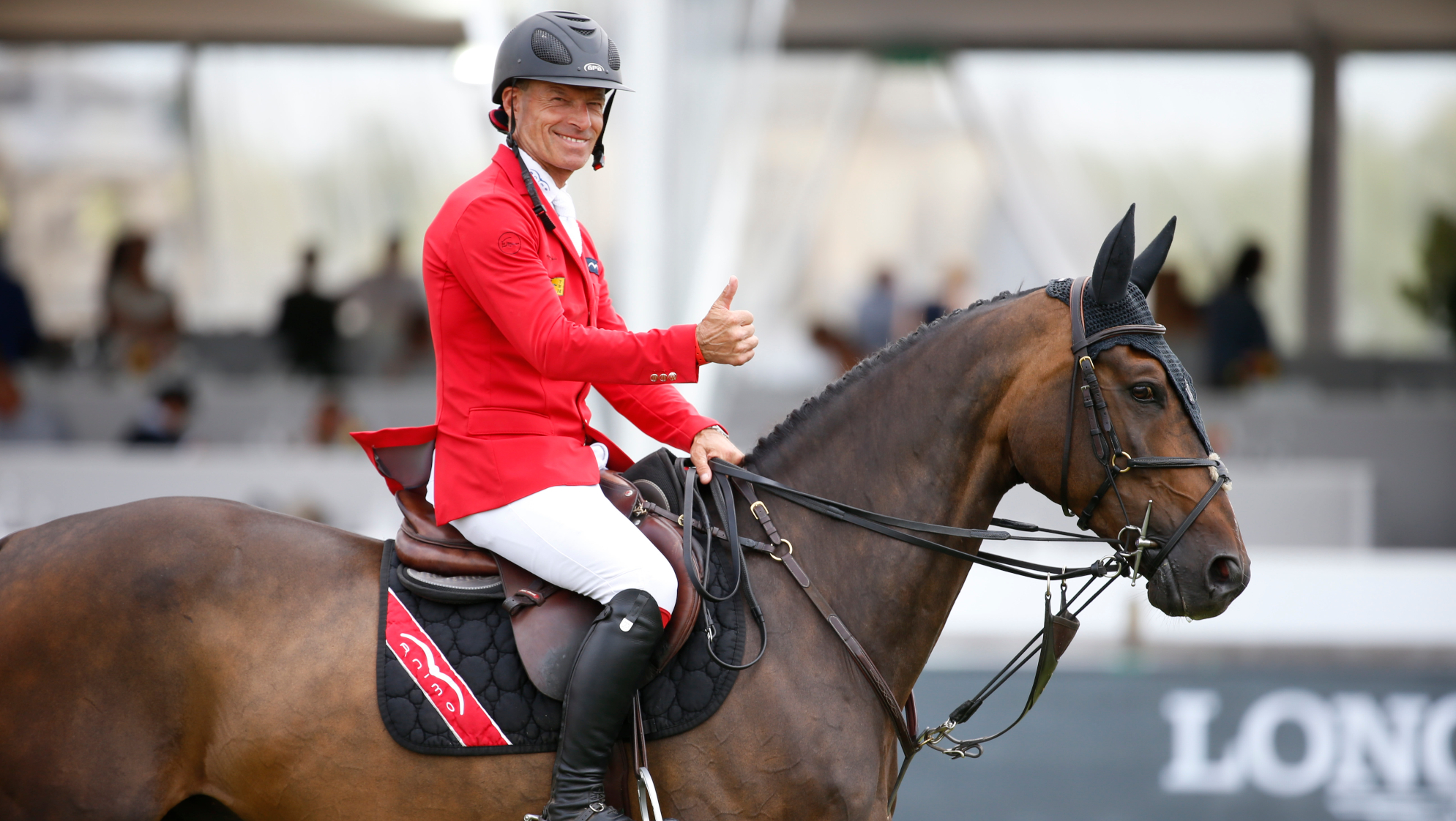 Photo: LGCT / Stefano Grasso
Speed demon Puis Schwizer (SUI) took the first CSI5* win at the Longines Global Champions Tour of Chantilly in a fast and furious speed class on his big striding gelding Balou Rubin R. Irishman Mark McAuley (IRL) took second place with Miebello just ahead of early leader Eduardo Alvarez Aznar (ESP and F.
Talking after his win Schwizer said: "It is a wonderful show here in Chantilly. I think Balou is a very fast horse, he is a very big horse in a very big arena and it works - he is a winner!"
Set in front of the picturesque backdrop of the Chateau de Chantilly, 52 international combinations tackled Uliano Vezzani's 1.45m course. The track was flowing and fast with the double combination by the in gate causing the most trouble.
The first two combinations in the arena were flying the French flag proudly and both Simon Delestre (FRA) and Alexis Deroubaix (FRA) finished with 0 faults in times of 76.56s and 75.05s respectively.
Jumping her 11-year-old stallion, Longines Ambassador of Elegance Jane Richard-Phillips (SUI) looked to be on flying form but just rolled two fences with Izmir van de Baeyenne causing them to finish with 8 faults.
Penelope Leprevost (FRA) schooled her bay stallion Vancouver de Lanlore round the huge grass arena in preparation for the bigger classes. The pair left all the fences up but added a time fault to their final score. Shane Sweetnam (IRL), Ben Maher (GBR), Darragh Kenny (IRL), Gerco Schroder (NED) and Michael Duffy (IRL) all also used this tactic today in their first CSI5* of Chantilly.
New to the Tour this year Kim Emmen (NED) cruised her new 9-year-old, Flock round clear in a time of 73.27 seconds. Ellen Whitaker (GBR) and Jack van't Kattenheye quickly overtook this time by over five seconds placing her mark early on.
Under 25 rider Emily Moffitt (GBR) rode Captain Jack round his first CSI 5* class. They picked up a total of 9 faults but the combination looked very smooth and proved they will ones to watch this weekend. Eduardo Alvarez Aznar (ESP) took the opportunity to fly into the lead on his speedy gelding F, they finished in third overall by less than a second.
It's normally difficult to keep Julien Epaillard (FRA) away from the podium in a speed class but today he picked up an early fault putting him out of contention. The drama then continued as Indago unexpectedly stopped at a wide oxer and the pair ended with 13 faults.
Pius Schwizer (SWI) has won multiple speed classes on the Tour this year already and today he wanted to add another to the list. He let Balou Rubin R stretch around the grass arena and easily took all the tight inside turns. The combination stormed over the finish line in 65.75 seconds leaving the rest of the field to chase.
A swift smooth round from Mark McAuley (IRL) and Miebello fell short of the top spot by just three-tenths of a second so he had to settle for a well respected second place. Fresh from his extraordinary double of wins last week Christian Ahlmann (GER) gave his LGCT Grand Prix of Paris winner Take A Chance On Me Z a quiet ride to finish with three time-faults and save him the rest of the weekend.
American Laura Kraut (USA) managed to join the top group on finishing in a time of sub 70seconds. Her big beautiful grey Confu made it look easy and they placed just inside the top 10. Scott Brash (GBR) who has won 11 LGCT Grand Prix retired Hello Jefferson towards the end of the course with the plan to save his energy for Super Saturday here in the heart of the Chantilly.
Last year's LGCT Grand Prix of Chantilly winner Nicola Philippaerts (BEL) produced a foot-perfect clear on his new horse Camargo but couldn't quite match the pace and passed through the finishing gate in 75.02 seconds. The third and final Whitaker to jump in this class was William (GBR). He set off with a purpose on RMF Charly and they slipped in just ahead of his cousin Ellen on the leaderboard.
Current ranking leader Pieter Devos (BEL) brought out his top horse Claire Z. Unusually the mare knocked two poles and the finished with a rare 11 faults. On his second ride Alexis Deroubaix (FRA) tried to take a stride out to the wall but Top Class du Plessis couldn't make it and stopped suddenly.
But it was the man with a plan Puis Schwizer (SWI) who took top honours in the first LGCT Chantilly class!
The next class will commence at 16.15 local time. Make sure to tune into GC TV and watch all the team action unfold live and for free.